The Bekker CareVan offers the user the ultimate level of luxury, yet remains very functional. The floor of the CareVan has been professionally lowered from the bulkhead to the the rear bench seat, and replaced with a level floor, some 10 inches lower than the original.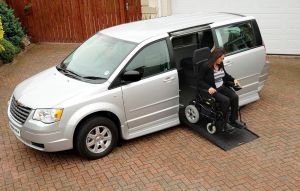 Due to the seating flexibility of the vehicle, the wheelchair occupant can either drive from wheelchair, be a wheelchair passenger, a front seat driver/passenger (using the standard seat or an optional electrically operated six way seat) or secured in the middle row.
The electrically operated six way seat allows you to transfer onto the driver or passenger seat with ease. The seat will retract into the middle row of the vehicle and rotate through 180 degrees as well as raise and lower all at the press of a button!
The standard front seats are secured with a simple to operate clamping bracket that allows the seats to be removed very quickly. Beneath the standard front seats a manual or electrically operated wheelchair tie own mechanism can be fitted to allow seamless transfer in and out of the vehicle for the wheelchair user.
The fact that there is no middle man and that we sell direct to the end user explains how we are able to offer the Chrylser Grand Voyager for thousands of pounds less than our nearest competitor!
Photogallery